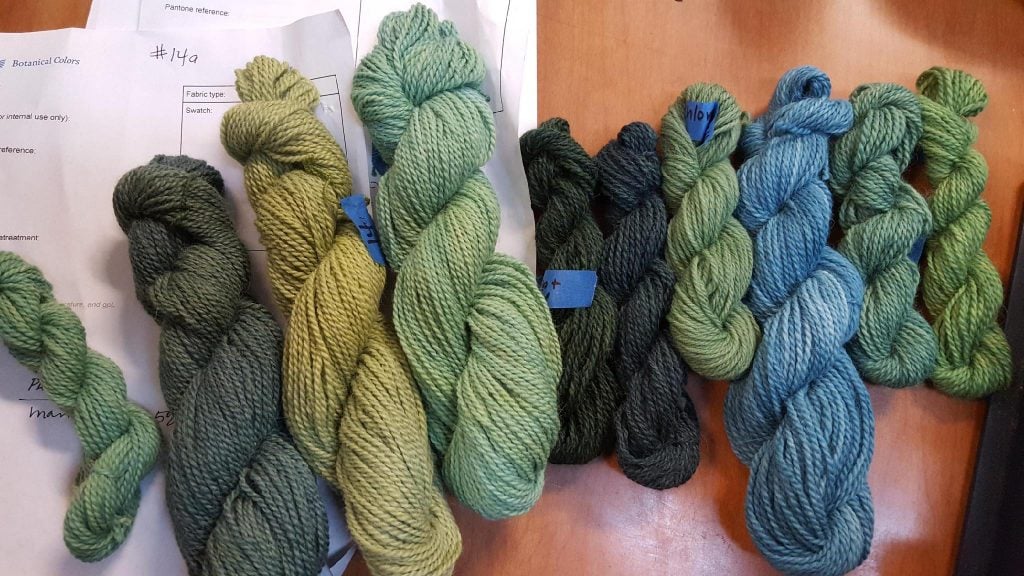 This week on FEEDBACK FRIDAY we had Botanical Colors President Kathy Hattori show us how to make green with natural dyes. Using powdered fustic, weld, and as Kathy calls it, "a new crazy chlorophyll mixture," she showed the versatility of our dyes to achieve colors maybe you've only dreamed of.
Some past FEEDBACK FRIDAY questions about getting greens with natural dyes:
I have a myrobalan question for you…
I am currently dyeing with myrobalan + an iron after bath and I am trying to figure out the refresh amount that will produce a similar green to the first bath. We have tried 50% and 75% refreshes but the yellow-ness of the myrobablan seems to be lacking, making the green a bit too gray. Do you have any idea as to why that is? I am going to try a 90% refresh today but it's not that the color isn't dark enough – it's that it is more muted/tan that produces a more gray/green after it's dipped in iron. I have also tried lower the iron amount and it has not helped. Any advice would be greatly appreciated!
It sounds as if the yellow component of myrobalan is being consumed in the first bath, which is why you are getting a green with iron, and the tannins that remain from the first bath are overriding any additional myrobalan that you are adding. Recharging isn't going to give you the results that you want and you will need to create a new dye bath. The other option is rather risky and that is to add a different clear yellow, but you may not be able to control the results to your satisfaction.
I'm getting ready to do a new round of dyeing fleece. Which of your dyes should I use to get the best deep green?

A good way to get a deep green on wool fleece is to first dye the fibers with indigo, then dye with a yellow like weld. A bright yellow will yield an emerald green and a pomegranate yellow will yield a forest green.
FEEDBACK FRIDAY
If you are not familiar with FEEDBACK FRIDAY, every week, we speak with dyers, artists, scientists and scholars about our favorite topic, natural dyeing and color. Curated by Amy DuFault, Botanical Colors' Sustainability Director and presented by Botanical Colors' Founder Kathy Hattori.
We even have our own theme song thanks to musician Jimmie Snider (click here to hear more of his music)!