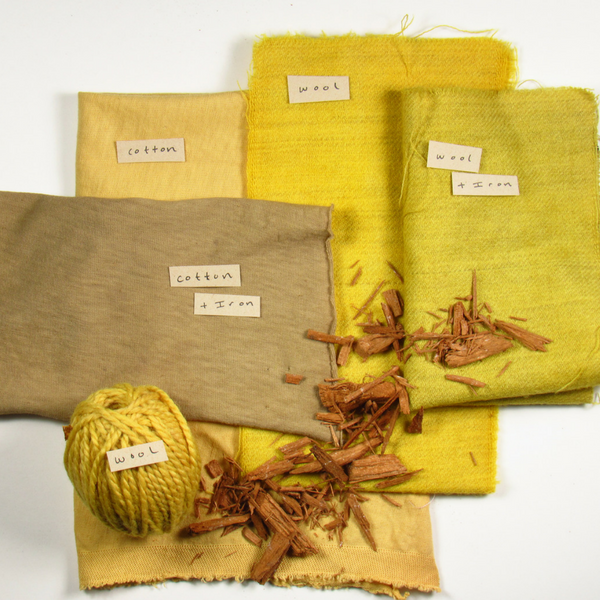 This week: Is iron safe for babies, mordanting with tannins and getting a lighter hue and does liquid rhubarb like cotton?
Every week, we are emailed with questions from our natural dye community asking simple and complex questions that we thought might be worth sharing. Of course, all of your burning questions are answered by natural dyer in chief, Kathy Hattori, Founder of Botanical Colors.
I have recently started out working with natural dyes. I am making a quilt for my newborn nephew and used symplocos mordant, chestnut, madder, cutch and iron to dye the fabric prices for the quilt.
I read about your safety measures when handling the iron and followed them when making the iron bath to dip the chestnut dyed fabric in. I rinsed the fabric thoroughly afterwards and hand washed with a mild soap. I am wondering if the quilt will be safe for the baby to lay on/ possibly rub its face on etc? My main concern is with the fabric dyed in the iron but I am also curious in general if using the natural dyes for baby products is okay?
We have had iron tested to see if it left residue when I was working on a commercial project. The pieces were submitted to an analytical textile testing lab and put through a number of standardized tests. The tests did not show any residue which indicated that any extra iron had been removed; the textile was washed with soap in an industrial washer, then rinsed twice. My advice is to machine wash the iron pieces at least twice with soap.
If your fabrics are well-dyed and are not bleeding or rubbing color, then there should not be any issue with using them for children's goods. To check for bleeding, soak a piece of fabric in a small clear cup or jar of hot tap water. If the water turns color, then wash the fabrics. For rubbing, take a damp piece of fabric and rub it against a white piece of fabric.  If a stain shows, wash the fabric until it does not create a rub stain.
Please note that if you were working with synthetic dyes, such as fiber reactives, you would follow these same washing and rubbing procedures to test the fabric. Let's start thinking about synthetic dyes as closely.
When I do the mordant process and use tannin it usually dyes my fabric a brown color. Is there a trick for that NOT to happen?
Tannin is present in a number of different dyestuffs, and depending on how dark it is, does create a brown shade.  If you want to use a "clear" tannin like gallo-tannin, the color will be a light yellowish brown, and is normally not noticeable in the final dyed textile.  A quick rundown of tannins that are suitable for use are:
Gallo-tannin: "clear" or light-colored, use at 5-10% wof
Tara tannin: "clear" or light-colored, use at 10% wof
Chestnut: light to medium yellow, use at 5-10%
Myrobalan: light to medium yellow, use at 10-20%
Pomegranate: medium to dark gold, use at 10%
Cutch: medium yellow to brown, use at 10%
Quebracho Moreno: medium gold, use at 10%
Walnut: dark brown, use at 25-50% (this is powdered walnut hulls, not an extract)
I am planning to order the Aquarelle Himayalan Rhubarb Liquid and I wanted to make sure that it would dye canvas. Does this natural dye work well with canvas?
Rhubarb works best with protein fibers, so if you want a gold shade, both pomegranate and fustic provide a similar shade and are well suited to cotton. Pomegranate would be my choice.